With at least 135 customers of a Virginia Chipotle Mexican Grill reporting they became ill after eating there July 13-16, the corporation is said to be "taking care of" the victims.
Lab results from tests of two customers have confirmed they were sickened by the same strain of norovirus, a highly contagious pathogen that is easily transmitted through food, which can become contaminated during production or preparation from contaminated water, contact with contaminated surfaces or from being handled by an infected person.
"Based on symptoms reported and these preliminary laboratory results, the cause of the outbreak is believed to be norovirus, though the specific source of the norovirus has not yet been identified," said Loudoun County Health Director David Goodfriend in an update Monday. "The Health Department is not aware of any customers becoming ill since the reopening of the facility last Wednesday."
Goodfriend said the department has identified more than 135 people who reported becoming ill after eating at the Chipotle restaurant in Sterling, VA, which is about 30 miles from Washington D.C. He told the Associated Press that some of the sick people were Chipotle employees.
About a dozen of the outbreak victims have contacted the Seattle law firm of Marler Clark LLP, said managing partner Bill Marler.
"I referred them to the Chipotle attorneys and they (the corporation) said they are going to take care of their customers," Marler said Monday evening.
Marler, who is best known as the lawyer who tackled Jack in the Box and the U.S. beef industry after E. coli in undercooked hamburgers sickened and killed children in 1993, said he believes Denver-based Chipotle will do the right thing. In September 2016 Marler settled cases filed by almost 100 people who were sickened by Chipotle foodborne illness outbreaks in 2015.
"I told them (the Chipotle legal team) they needed to take care of their (Virginia) customers because if they didn't, the people would probably be calling me back," Marler said.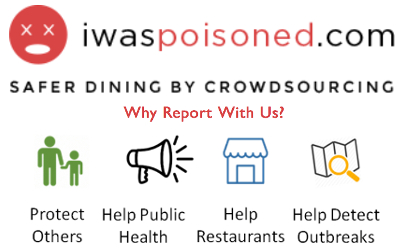 News of the norovirus outbreak in Sterling, VA, broke a week ago when Business Insider reported that customer posts about illnesses on the crowd-sourcing website iwaspoisoned.com proceeded the decision by Chipotle officials to temporarily close the restaurant.
Founder and CEO Steve Ells issued a statement Wednesday saying the restaurant had been cleaned.
"The event that occurred at this restaurant is consistent with Norovirus which can be introduced by people into any closed environment like schools, cruise ships, nursing homes or restaurants," Ells said.
"… when we learned of this issue, we took aggressive action to correct the problem and protect our customers. We quickly and proactively notified local health officials, deployed our safety support teams, and voluntarily closed the restaurant. While the restaurant was closed, multiple teams performed complete sanitizations of all surfaces. We also provided support to any customers or employees who had reported illness to ensure their well-being."
The federal Centers for Disease Control and Prevention reports about 1 in 6 Americans gets sick from contaminated food each year. Norovirus, sometimes called stomach flu, is the most common cause of foodborne illness.
People infected with norovirus usually develop symptoms 12 to 48 hours after being exposed to norovirus and most people who are ill get better within one to three days, according to the CDC. Frequent hand washing and staying home when sick are two of the most important means of preventing the spread of  the virus.
The string of outbreaks that plagued Chipotle at locations throughout the country during the last half of 2015 included:
Seattle — E. coli O157:H7, July 2015, five people, source unknown;
Simi Valley, CA — Norovirus, August 2015, 234 people, source was sick employee;
Minnesota — Salmonella Newport, August and September 2015, 64 people, source was tomatoes but it is not known at what point in the field-to-fork chain the pathogen was introduced;
Nine states — E. coli O26, began October 2015 and declared over on Feb. 1, 2016, 55 people, source unknown, states involved were California, Delaware, Illinois, Kentucky, Maryland, Minnesota, New York, Ohio, Oregon, Pennsylvania and Washington, and,
Three states — E. coli O26, began December 2015, declared over Feb. 1, 2016, five people, source unknown, states involved were Kansas, Oklahoma and Nebraska.
Stock prices for Chipotle Mexican Grill continued to fall Monday, closing at $339.98 for a loss of  $5.36 or 1.55 percent per share. The burrito chain's all-time closing high of $757.77 was recorded on Aug. 5, 2015, before news of the foodborne illness outbreaks was reported.
Editor's note: Attorney Bill Marler is founder and publisher of Food Safety News.
(To sign up for a free subscription to Food Safety News, click here.)