Sara Lee Deli brand cheese is the latest on a growing list of product recalls because of Listeria found in cheese manufactured by Deutsch Käse Haus LLC of Middlebury, IN, which was warned in 2010 about Listeria monocytogenes in its plant.
In addition to the Sara Lee cheese, since Thursday, three brands of cheese produced by Indiana-based Deutsch Käse Haus LLC and two brands of salads produced by Taylor Farms and including cheese from Deutsch Käse Haus LLC have been recalled.
Only two flavors of Sara Lee Deli brand cheese are currently included in the recall:
Sara Lee "Sliced Monterey Jack Cheese with Jalapeno Peppers" with the item number 40205, Product Lot #A319349610, and "USE BY JUN-12-17" and
Sara Lee "Sliced Colby Jack Cheese" with the item number 40208, Product Lot #A319348610, and "USE BY JUN-11-17"
Sara Lee distributed the recalled cheese to food retailers in Alabama, California, Louisiana, Michigan, Pennsylvania and Texas, according to the company's recall notice.
"The products are being recalled out of an abundance of caution because they were made by an outside supplier on the same day and with the same equipment as Deutsch Käse Haus, LLC-supplied cheese, which is being recalled due to potential contamination of Listeria monocytogenes," according to the recall notice.
"Consumers who have purchased this product are instructed to take it back to the store for a credit. Consumers with questions may call Sara Lee Consumer Relations department at 888-747-7611."
Multiple brands, products under recall

Tennessee inspectors from the Department of Agriculture discovered Listeria monocytogenes bacteria in Amish Classic brand cheese produced by Deutsch Käse Haus in random samples they collected from a grocery store on Jan. 30 in Trenton, TN.
On Thursday, Feb. 9, the Tennessee department posted an alert announcing a recall of Amish Classic cheeses and Meijer branded cheeses, all made by Deutsch Käse Haus.
The following day, Sargento Foods Inc. announced a recall of seven of its branded sliced and shredded cheese products made by Deutsch Käse Haus.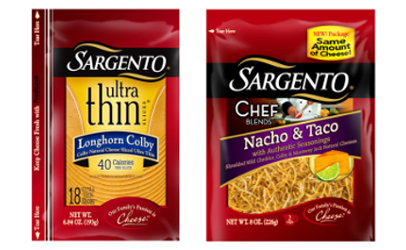 A day later Taylor Farms of Salinas, CA, announced a recall of more than three tons of chicken salad and pork salad products packaged under the Signature Cafe and H-E-B brands because they include cheese recalled by Sargento.
As of Sunday evening it was unknown if other food companies had received potentially implicated cheese from Deutsch Käse Haus. Although the Food and Drug Administration is investigating the situation, the agency is banned from revealing customer lists because they are considered "confidential corporate information."
Consumers urged to check homes, watch for symptoms

The recalled salads have use-by dates through Sunday, Feb. 19 and some of the recalled cheese products have best-by dates through July 17. Consequently, recalling companies and public health officials are concerned that the recalled products may still be in home refrigerators.
Also, because it can take up to 70 days after exposure to the Listeria bacteria for infection symptoms to develop, health officials are encouraging anyone who already ate any of the recalled cheese or salads to monitor themselves for symptoms. If symptoms develop, they should seek medical attention and inform their doctors of the possible exposure to the pathogen.
"Listeriosis can cause fever, muscle aches, headache, stiff neck, confusion, loss of balance and convulsions sometimes preceded by diarrhea or other gastrointestinal symptoms," according to the Taylor Farms salad recall notice.
"An invasive infection spreads beyond the gastrointestinal tract. In pregnant women, the infection can cause miscarriages, stillbirths, premature delivery or life-threatening infection of the newborn. In addition, serious and sometimes fatal infections in older adults, (children) and persons with weakened immune systems."
Current Listeria issue not the first for Deutsch Kase Haus
The Tennessee food inspectors were not the first to find Listeria in connection with the Deutsch Käse Haus production operation.
In September and October 2009, inspectors with the Food and Drug Administration observed problems at the facility including illegal labeling and improper maintenance and sanitization, according to an archived FDA warning letter. On Sept. 14 and 15, 2009, inspectors collected swabs from environmental surfaces at the Middlebury, IN, cheese plant.
Of 25 environmental surface swabs tested, 12 percent — three swabs — were positive for Listeria monocytogenes.
The plant owner at the time — Guggisberg Cheese Inc. — was given the standard 15 working days to respond to the FDA warning letter. Four years later the FDA issued a closeout letter indicating Deutsch Käse Haus had "addressed the violation(s)"
"Future FDA inspections and regulatory activities will further assess the adequacy and sustainability of these corrections," November 2013 closeout letter states.
In November 2016, the Michigan Milk Producers Association bought Deutsch Käse Haus from Guggisberg Cheese Inc. The Deutsch Käse Haus location in Middleburg, IN, processes about 400,000 pounds of milk a day, according to the association website. The plant mainly produces colby cheese, in addition to colby-jack, monterey-jack, cheddar, pepper-jack cheese and other flavors.
(To sign up for a free subscription to Food Safety News, click here.)