Secretary of Agriculture Sonny Perdue would make a great Jolly Old Elf. In fact, he's looked upon as Santa Claus in about 300 congressional districts where a visit from the Secretary of Agriculture is an event much like Christmas morning.
The range and depth of the USDA bag of goodies now carried by the Secretary of Agriculture isn't unlimited, but it's pretty damn deep. He is executing his duties more like a mayor for rural American than a mere federal department head.
Perdue's at the top of the wrong list this year, closely followed by another federal administrator and one of the world's top businessmen.
Thankfully, there were also elected officials and other individuals watching out for us all and working for safer food in the future.
---
We asked Santa for lemons and coal in these stockings
USDA Secretary Sonny Perdue heads 2017 Naughty List for 3 reasons: The first and foremost reason is his insistence on removing the U.S. Codex office from food safety to trade. Codex is responsible for organizing multi-agency involvement in setting world food standards, which include food safety.
Second, from what we see, Perdue hasn't lifted a finger to get the White House to nominate the next Under Secretary for Food Safety.
More than four years vacant, the USDA Under Secretary for Food Safety is the highest food safety job in the federal government, providing immediate oversight of the $1 billion — yes, that's billion with a"b" — Food Safety and Inspection Service operations. The sub-agency of the USDA has about 8,000 inspection personnel assigned to almost 6,500 meat, poultry, egg and catfish businesses. They are the frontline of USDA's food safety efforts.
Finally, Perdue does not seem interested in food safety. He was governor of Georgia during the Peanut Corporation of America debacle, which caused a deadly nationwide Salmonella outbreak that sickened thousands and killed nine in 2008-09. Perdue's critics said he pretty much just kept his head down through the outbreak and ensuing criminal investigation and federal prosecution of company officials.
We always look for private sector executives who've created a culture of food safety and who stay continually as signs of a company that gets it. If Secretary Perdue is missing those qualities, it's more than a Naughty problem.
There was a kerfuffle this past weekend about news reports regarding words that had allegedly been banned from the vocabulary of the Centers for Disease Control and Prevention. The original reporting was probably more nuanced, but reports airing all weekend said CDC scientists could not use phrases such as "science-based."
Dr. Brenda Fitzgerald, the former public health commissioner for Georgia and CDC's new director, took way too long to set the record straight.
Her tardy response was consistent with reports that she is turning out to be less than a hands-on manager.
She's even failed to show up for some of the CDC's annual press events, like rolling out new flu shots and similar uncontroversial events. She still has financial holdings that have raised conflict of interest issues, and that issue is taking up her time.
All of which adds up to Dr. Fitzgerald getting on the Naughty list for 2017: Being in the leadership at CDC is not an easy job. We hope she does better in 2018.
We are putting Jeff Bezos on the Naughty List because as far as we can tell that's the only penalty he's going to suffer: He earned his spot with other bad girls and boys because he was still selling soy nut butter in September that had been recalled in March.
Laboratory tests showed people in a dozen states were infected with the same strain of E. coli as was found in the recalled products.
Bezos can get packages delivered around the world, but his mammoth Amazon operation gave us pause this year when we discovered it was still peddling recalled soy butter that had sickened 32 people, including 26 children.
We did have to wonder if an Amish farmer was selling poison soy butter from the back of a horse-drawn buggy if FDA might have moved in with their guns drawn. But we seriously doubt if FDA's lawyers even talked to Bezos lawyers about this little infraction.
---
Sending the good guys wishes for sugar cookies & sugarplums
Gov. Rick Snyder is on our Nice List for 2017 for his veto of a Michigan bill:  The legislation would have eliminated a training requirement for people who sell wild mushrooms to restaurants and other food establishments.
Snyder said mushroom picking is risky in Michigan because many species are highly toxic. He decided mushroom picking without training would not only not be prudent, but it could also be deadly.
That level of risk might be OK for untrained people who are eating the mushrooms themselves, but selling those mushrooms with the intent that they will be served to consumers is over the line.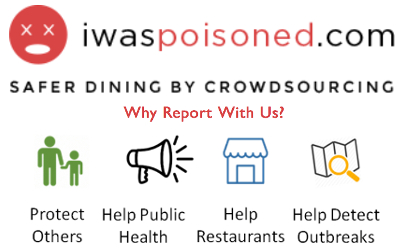 Patrick Quade, founder of iwaspoisoned.com, is on our Nice List for sticking with it: We're recognizing our friend because of the increased success of his crowd-sourced website in providing early detection of foodborne illness clusters.
Quade, an Austrailian who made his way to Wall Street, formed iwaspoisoned.com after he was stricken with a bout of foodborne illness. He left the street of finance in his dust as he raced onto the Information Superhighway. Using his own savings, sweat, and perseverance he has grown iwaspoisoned.com to be a respected, reliable source.
State and local health authorities are finding the crowd-sourcing tool can provide a reliable early warning of outbreaks as they are happening. Such early information is one of the most important factors in identifying outbreaks sooner rather in later. That translates into fewer foodborne illnesses.
David Tharp, executive director of the International Association for Food Protection, is on the Nice List for his bridge-building abilities: IAFP is essential for many reasons, but especially for bringing academia, industry, and government together to advance food safety.
Tharp moves comfortably in all three realms where he is known and respected. The success of IAFP is in no small part a result of Tharp's efforts in the past 25 years to bring researchers, business people, and regulators to the same table.
Tharp and the IAFP's Des Moines, IA-based staff annually put on food safety's most thorough annual conference. Tharp came to the association without a food safety or science background, but his CPA and finance expertise helped grow IAFP to more than 4,000 members worldwide.
In addition to the annual conference in the U.S., the organization brings food safety events to China, Dubai, Latin America and the South Pacific.
IAFP's next annual meeting is July 8-11 at the Salt Palace Convention Center in Salt Lake City.
(To sign up for a free subscription to Food Safety News, click here.)
—
+++
(To sign up for a free subscription to Food Safety News, click here.)