Five more brands of cheese are under nationwide recall, this time by Ohio distributor MDS Foods Inc., because of Listeria monocytogenes found in finished cheese made by Deutsch Kase Haus LLC.
Although the MDS Foods recall is dated Feb. 11, it was not available on the Food and Drug Administration website until Monday afternoon. It is one of a string of cheese and salad recalls initiated since Feb. 9 when the Tennessee Department of Agriculture reported it had found Listeria through a routine random sampling program of cheese collected from a retail store.
No illnesses have been confirmed in connection to consumption of the recalled cheeses, but it can take up to 70 days for symptoms of Listeria infections to develop. Because of the relatively long shelf life of the products, officials are urging consumers to check their homes for the recalled cheese.
The MDS Foods recall includes two brands that were named in the Feb. 9 Tennessee agriculture department warning:
Amish Classics; and
Meijer.
The five other brands under recall by MDS Foods are:
Deli Readi;
Deli Made EZ;
Lipari Old Tyme;
Duck Deli; and
Old Tyme.
A complete list of the MDS Foods recalled cheeses with identifying package coding can be found at the end of this news story.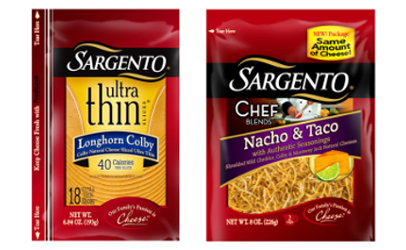 Anyone who has eaten any of the recalled cheeses — which includes Sargento, Sara Lee and Meijer brands as well as certain H-E-B and Signature Cafe salads from Taylor Farms —  should monitor themselves for symptoms and seek medical attention if they develop. Patients should be sure to tell their doctors of suspected Listeria exposure so the proper diagnostic tests can be performed.
"Customers who have purchased any of the cheese products listed below from the affected sell by dates or any unreadable date codes are urged not to consume it and to return it to the place of purchase for a full refund.
"MDS Foods Inc. has also recalled potentially affected products that were packaged on the same production lines in our Tullahoma, TN, Facility as the affected product.
The pathogen investigation
Tennessee inspectors from the Department of Agriculture discovered Listeria monocytogenes bacteria in Amish Classic brand cheese produced by Deutsch Käse Haus in random samples they collected from a grocery store on Jan. 30 in Trenton, TN.
On Thursday, Feb. 9, the Tennessee department posted an alert announcing a recall of Amish Classic cheeses and Meijer branded cheeses, all made by Deutsch Käse Haus.
The following day, Sargento Foods Inc. announced a recall of seven of its branded sliced and shredded cheese products made by Deutsch Käse Haus.
A day later Taylor Farms of Salinas, CA, announced a recall of more than three tons of chicken salad and pork salad products packaged under the Signature Cafe and H-E-B brands because they include cheese recalled by Sargento.
As of Monday evening it was unknown if other food companies had received the recalled cheese from Deutsch Käse Haus.
Although the Food and Drug Administration is investigating the situation, the agency is banned from revealing customer lists because they are considered "confidential corporate information."
Deutsch Kase Haus had Listeria problems before
The Tennessee food inspectors were not the first to find Listeria in connection with the Deutsch Käse Haus production operation.
In September and October 2009, inspectors with the Food and Drug Administration observed problems at the facility including illegal labeling and improper maintenance and sanitization, according to an archived FDA warning letter. On Sept. 14 and 15, 2009, inspectors collected swabs from environmental surfaces at the Middlebury, IN, cheese plant.
Of 25 environmental surface swabs tested, 12 percent — three swabs — were positive for Listeria monocytogenes.
The plant owner at the time — Guggisberg Cheese Inc. — was given the standard 15 working days to respond to the FDA warning letter. Four years later the FDA issued a closeout letter indicating Deutsch Käse Haus had "addressed the violation(s)"
"Future FDA inspections and regulatory activities will further assess the adequacy and sustainability of these corrections," November 2013 closeout letter states.
In November 2016, the Michigan Milk Producers Association bought Deutsch Käse Haus from Guggisberg Cheese Inc. The Deutsch Käse Haus location in Middlebury, IN, processes about 400,000 pounds of milk a day, according to the association website. The plant mainly produces colby cheese, in addition to colby-jack, monterey-jack, cheddar, pepper-jack cheese and other flavors.
Cheese products being recalled by MDS Foods Inc. because of contamination found in products:
Item# 

Brand          

Product

Size

   Piece UPC              

          Case UPC        

  Date(s)

55209

Amish
Classics

Colby Deli
(Mini) Horn
6 lb
8 28653 552093
00 8 28653 552093
Sell by: May
17, 2017
55241
Amish
Classics
Colby RW Fullmoon
About 8 oz
8 28653 55241 3
00 8 28653 55241 3
Best if used by: 07/10/17
7/4/2017
6/4/2017
5/19/2017
55245
Amish
Classics
Colby EW
Fullmoon
8 oz
8 28653 55245 1
00 8 28653 55245 1
Best if used by:7/10/2017
7/4/2017
6/3/2017
5/19/2017
55831
Deli
Readi
Colby Mini
Cheese Slices
2 lb pack
6 34660 62859 7
00 6 34660 628597
Best if used by:05/02/2017
4/22/2017
55553
Deli
Made EZ
Colby Cheese
Slices
1.5 lb pack
8 28653 55554 4
00 8 28653 55553 7
 335-16
18755
Meijer
Colby Jack Mini
Horn
6 lb
710917 18755
7 10917 18755

Sell by Date:
05/02/17

55755
Meijer
Colby Mini Horn
6 lb
710917 55755
7 10917 55755

Sell by Date:
05/02/17
Cheese products recalled by MDS Foods Inc. because of potential contamination:
Item# 

Brand

Product

Size

           Piece UPC            

               Case UPC             

    Date(s)

55244
Amish
Classics
Colby RW
Halfmoon
Approx.
8 oz
N/A
0 08 28653 552444
Best if used by:
07/10/2017
55758
Meijer
Colby EW
Halfmoon
8 oz
7 13733 34047 2
0 07 13733 34047 2
Best if used by:
07/10/2017
18244
Amish
Classics
Colby Jack
RW Halfmoon
Approx.
8 oz
N/A
00828653182443
Best if used by:
07/10/2017
18758
Meijer
Colby Jack
EW Halfmoon Chunk
8 oz
713733340588
00713733340588
Best if used by:
07/10/2017
18241
Amish
Classics
Colby Jack
RW Fullmoon
Approx.
8 oz
N/A
0 08 28653 18241 2
Best if used by:
07/10/2017
18245
Amish
Classics
Colby Jack
EW Fullmoon
8 oz
828653182450
00828653182450
Best if used by:
07/10/2017
28245
Amish
Classics
Cheddar
EW Fullmoon
8 oz
828653282457
00828653282457
Best if used by:
07/10/2017
07/04/2017
73705
Lipari Old
Tyme
Swiss
Sandwich Cut
Approx
8.5 lbs
N/A
00828653737056
Best if used by:
07/04/2017
10241
Amish
Classics
Jalapeno RW
Fullmoon
Approx.
8 oz
N/A
0 08 28653 102410
Best if used by:
07/04/2017
10245
Amish
Classics
Jalapeno EW
Fullmoon
8 oz
828653102458
00828653102458
Best if used by:
07/04/2017
18830
Deli Readi
Colby Jack
St Pk 1oz Halfmoon Slice
1 lb
6 34660628757
006 34660 62875 7
Best if used by:
05/02/2017
10831
Deli Readi
Jalapeno
St Pk 1oz Slice
2 lb pack
6 34660628788
0 0634660 628788
Best if used by:
04/22/2017
26831
Deli Readi
Hot Pepper
St Pk 1oz Slice
2 lb pack
6 34660628689
0 0634660 628689
Best if used by:
04/22/2017
26555
Deli
Made EZ
Hot Pepper
St Pk .5oz Slice
1.5 lb
pack
8 28653 265559
0 08 28653 265559
Best if used by:
04/22/2017
28747
Duck Deli
Cheddar
St Pk .75oz Slice
1.5 lb
pack
8 28653 287476
0 08 28653 287476
Production Date: 358-16
28545
Deli
Made EZ
Cheddar
St Pk .75oz Slice
2.0 lb pack
8 28653 285458
0 08 28653 285458
Best if used by:
04/22/2017
28555
Deli
Made EZ
Ched Mild
St Pk .5oz Slice
1.5 lb pack
8 28653 285557
0 08 28653 28555 7
Best if used by:
04/22/2017
55830
Deli Readi
Colby
St Pk 1oz
Halfmoon Slices
1.0 lb pack
6 34660 628726
0 06 34660 62872 6
Best if used by:
04/22/2017
55703
Old Tyme
Colby
EW Halfmoon
8 oz
0 94776 10227 3
0 00 41563 26105 7
Best if used by:
06/03/2017
10555
Deli
Made EZ
Jalapeno Jack
St Pk .5oz Slice
1.5 lb
pack
8 28653 10555 8
0 08 28653 105558
Best if used by:
03/30/2017
(To sign up for a free subscription to Food Safety News, click here.)