In what federal prosecutors say is the largest ever fine of its kind, operators of Chipotle Mexican Grill Inc. have agreed to pay $25 million to resolve criminal charges related to foodborne illness outbreaks from 2015 through 2018.
More than 1,100 people were sickened in the outbreaks that caused the Justice Department to charge the fast-food restaurant chain with violating federal law by adulterating food. The outbreaks cited in the case are among at least seven that were traced to Chipotle during the 2015-2018 timeframe.
"The Newport Beach, California-based company agreed to a three-year deferred prosecution agreement (DPA) that will allow it to avoid conviction if it complies with an improved food safety program," according to a statement from the U.S. Department of Justice. "Chipotle also agreed to pay the $25 million criminal fine, the largest ever in a food safety case, as part of the DPA."
In the agreement the company blamed the outbreaks on individual employees at individual locations. According to the Department of Justice filing, Chipotle officials agreed that employees had failed to follow hygiene procedures and violated policies requiring sick employees to stay home.
"In December 2015, a norovirus incident at a Chipotle restaurant in Boston sickened 141 people," according to the court filing. 
"That outbreak likely was the result of an ill apprentice manager who was ordered to continue working in violation of company policy after vomiting in the restaurant. Two days later, the same employee helped package a catering order for a Boston College basketball team, whose members were among the consumers sickened by the outbreak."
Federal officials say the fine Chipotle has agreed to is significant partly because it comes in the context of the company spending "tens of millions of dollars … to upgrade its food safety program."
The fine agreement is also being touted as an example to other food companies that the Justice Department and the Food and Drug Administration are serious about enforcing food safety laws.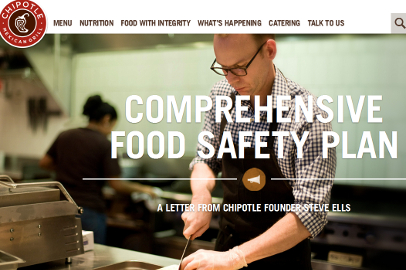 The series of outbreaks not only sickened thousands and provided the government with fodder for criminal charges, it saw the end come for the founder and CEO of the company, Steve Ells. He pledged from the beginning to provide wholesome, natural food sourced in a sustainable fashion. The outbreak scandal saw his company's stock drop to less than half its value and was the writing on the wall for Ells.
As part of the agreement with the federal government, Chipotle's leaders agreed the company would "develop and follow an improved, comprehensive food safety compliance program."
Chipotle has agreed to work with its "Food Safety Council" to evaluate its food safety audits, restaurant staffing, and employee training, among other areas, to mitigate the issues that led to the outbreaks.
General timeline of Chipotle outbreaks 
2018 Outbreak of Clostridium perfringens at Chipotle, Powell, OH — In July 2018 public health investigators at the Delaware General Health District and the Ohio Department of Health investigated an outbreak of Clostridium perfringens associated with the Chipotle Mexican Grill at 9733 Sawmill Parkway in Powell, Ohio. A reported 647 people became ill after eating at the restaurant between July 26 and July 30. Chipotle closed the store on July 30. After implementing its food-safety-response protocols, which included replacing the food and cleaning the restaurant, the facility reopened on July 31.
2017 Outbreak of Norovirus at Chipotle Mexican Grill, Sterling, VA —The Loudoun County, VA, Health Department reported that more than 135 people were sickened after eating food from the Chipotle Mexican Grill at 21031 Tripleseven Road in Sterling, VA. Two ill patrons tested positive for norovirus. The outbreak was attributed to an ill food handler.
2015 Outbreak of Norovirus, Chipotle Mexican Grill, Boston, MA — More than 120 Boston College students became ill after eating at the Chipotle restaurant at 1924 Beacon Street in Brighton, MA, in December 2015. After receiving reports of multiple cases of gastrointestinal illness among patrons who ate at the Chipotle Mexican Grill in Cleveland Circle, the Boston Public Health Commission, the City of Boston Inspectional Services Department, and the Massachusetts Department of Public Health launched an investigation to determine the cause and the nature of the illness. Laboratory testing confirmed the presence of norovirus. There were 136 known cases of norovirus from people who ate at Chipotle; others who were contacts to these cases have also become ill. City inspectors temporarily closed the Chipotle in Brighton near BC's campus.
2015 Outbreaks of E. coli O26 linked to Chipotle Mexican Grill, Washington, and Oregon — The CDC, FDA, USDA and public health officials in several states investigated two outbreaks of E. coli O26 linked to food sold at Chipotle Mexican Grill restaurants. Outbreak No. 1: At least 55 people were infected across 11 states. Outbreak No. 2: In December 2015 a second outbreak with a different rare strain of E. coli O26 was identified. At least 5 people were infected in three states.
2015 Outbreak of Norovirus, Chipotle Mexican Grill, Simi Valley, California — In August 2015 Ventura County Environmental Health and Ventura County Public Health Division staff investigated an outbreak of norovirus among patrons of a Chipotle restaurant in the Simi Valley Towne Center. During the week of Aug. 18, 2015, about 80 customers and 18 restaurant employees reported symptoms. Laboratory testing of patient specimens confirmed the presence of Norovirus. The restaurant closed temporarily for cleaning.
2015 Salmonella Newport Outbreak, Chipotle Mexican Grill, Minnesota — Minnesota Department of Health (MDH) and Minnesota Department of Agriculture investigators reported an outbreak of Salmonella Newport among customers of 17 different Chipotle Mexican Grill restaurants. Among the 81 confirmed and 34 probable cases, illness onset dates ranged from Aug. 2 to Sept. 27.
2015 E. coli O157 Outbreak Linked to Chipotle Mexican Grill, Seattle, Washington — In early August 2015 Public Health Seattle-King County investigated an outbreak of E. coli O157 illnesses that occurred among five patrons of a Chipotle Mexican Grill restaurant. Three patients were hospitalized. The Washington Department of Health (WDOH) Public Health Laboratory (PHL) conducted genetic testing by pulsed-field gel electrophoresis (PFGE) on isolates cultured from patients' specimens. Test results showed that all were infected with an indistinguishable genetic strain that had not been seen previously in King County. 
(To sign up for a free subscription to Food Safety News, click here.)