For at least the third time this year, the crowd-sourced website iwaspoisoned.com has identified a foodborne illness outbreak, this time among students who ate at a Georgia Tech dining hall.
The "North Avenue Dining Hall" at the university in Atlanta started showing up in reports on the foodborne illness website in the past couple of days. When such clusters of reports at one foodservice location pop up, Patrick Quade keeps a close eye on the website he launched in 2009.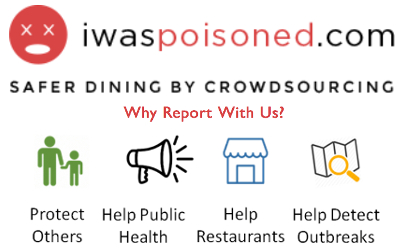 The iwaspoisoned.com founder alerted local health officials in Fulton County, GA, as well as officials at the Georgia Institute of Technology, when he noticed the flurry of reports from students who ate at that specific dining hall. They were reporting the same symptoms of diarrhea, nausea and vomiting. Seventeen reports hit Quade's website in less than 24 hours. Statistically speaking, that's more than a little significant.
Tuesday afternoon, university officials notified Georgia Tech students about a possible foodborne illness outbreak and cautioned them to avoid contact with others if they become sick. The school leaders also reminded the student body about proper hand washing.
Georgia Tech spokeswoman Laura Diamond said about 50 students had reported symptoms of vomiting and diarrhea in recent days, according to the Atlanta Journal-Constitution newspaper. She said health department officials were on campus, assisting with the investigation.
iwaspoisoned.com 3 for 3
In April, Quade's website accurately identified a norovirus outbreak at a Jimmy John's restaurant near Wausau, WI. The Marathon County Health Department reported at least 100 people were sickened. It turned out that a restaurant employee tested positive for the highly contagious virus.
In July the crowd-sourced website accurately identified another norovirus outbreak. A Chipotle Mexican Grill restaurant in Sterling, VA, was the implicated location. At least 135 people were sickened.
About a week after iwaspoisoned.com alerted public officials about the cluster of illnesses reported by the Chipotle customers, the Loudoun County Health Department reported some of the restaurant's employees were among the ill people.
Quade launched iwaspoisoned.com after he contracted a foodborne illness himself. Though the former stock broker refers to the site as crowd-sourced, he's funded much of its operations himself. He says he wants to make a difference, raise awareness about how common food poisoning is, and how relatively simple measures can greatly reduce it.
He has expanded the site to provide customized alerts for state and local health departments. He has helped officials identify a number of foodborne illness outbreaks since 2009. He provided crucial information during the six outbreaks among Chipotle customers in 2015.
"This real-time information provides a wider range of information data to help local agencies better manage food illness outbreaks," Quade told Food Safety News. "It also supplements existing reporting channels and serves to corroborate their own reporting systems."
(To sign up for a free subscription to Food Safety News, click here.)