Secondary recalls related to Listeria discovered by Tennessee officials in cheese have begun, with Taylor Farms recalling more than three tons of chicken salad and pork products because they contain recalled Sargento cheese.
The recalled Taylor Farms products — packaged under the Signature Cafe and the H-E-B brands — have use-by dates through Feb. 19, so company and federal officials are concerned unused portions may still be in consumers' homes. Food contaminated with Listeria bacteria may not look, smell or taste bad.
"Consumers who have purchased these products are urged not to consume them. These products should be thrown away or returned to the place of purchase," according to the recall notice on the USDA's Food Service and Inspection Service (FSIS) website.
Complete distribution details are not included in the Taylor Farms recall notice. The Taylor Farms production facilities in Tracy, CA, and Dallas shipped the Signature Cafe and H-E-B branded products to distribution centers in Los Angeles; Tracy; Portland, OR; and Roanoke and San Antonio, TX. When specific retail locations have been identified as having received the recalled products, the FSIS will post them online at www.fsis.usda.gov/recalls.
Consumers should check for these specific products in their homes and review the "use by" dates and "establishment numbers" to determine if the products they have are included in the recall. The products subject to recall have either establishment number M/P-34013 or establishment number M/P-34733 inside the USDA mark of inspection.
The three recalled products are:
10.5-ounce plastic trays of "Signature Cafe Southwest Chicken Premade Salad" with any of the following "USE BY" dates: 2/13/17, 2/14/17 or 2/15/17;
10.5-ounce plastic trays of "Signature Café Southwest Style Salad with Chicken" with any of the following "USE BY" dates: 2/14/17, 2/15/17 or 2/16/17; and
10.5-ounce plastic trays of "H-E-B Shake Rattle & Bowl Rowdy Ranch Hand (contains pork)" with any of the following "USE BY" dates: 2/17/17, 2/18/17 or 2/19/17.
Anyone who has eaten any of the recalled products should monitor themselves for signs of Listeria infection for 70 days. If symptoms develop, they should seek medical attention and inform their doctors of the possible exposure to the pathogen.
"Listeriosis can cause fever, muscle aches, headache, stiff neck, confusion, loss of balance and convulsions sometimes preceded by diarrhea or other gastrointestinal symptoms," according to the recall notice.
"An invasive infection spreads beyond the gastrointestinal tract. In pregnant women, the infection can cause miscarriages, stillbirths, premature delivery or life-threatening infection of the newborn. In addition, serious and sometimes fatal infections in older adults, (children) and persons with weakened immune systems."
Listeria discovered by Tennessee authorities
Although the Listeria problem was just brought to the attention of Taylor Farms officials on Friday, state inspectors in Tennessee actually discovered the pathogen in cheese collected from a retail location on Jan. 30. Test results were confirmed this past week.
"On Jan. 30, TDA (Tennessee Department of Agriculture) took a sample of the Amish Classic Colby from a store in Trenton, TN," according to a Thursday consumer alert from the agriculture department.
"Tests conducted in the state lab confirmed the food was contaminated with Listeria monocytogenes. The Food and Drug Administration is investigating the source and extent of the contamination and determining how many retailers received these batches of cheese."
The routine, random testing by Tennessee food inspectors triggered recalls of a variety of Sargento, Meijer and Amish Classics cheese products.
All of the recalled cheeses were produced by Deutsch Kase Haus LLC, a Middlebury, IN, company owned by the Michigan Milk Producers Association. It was not clear Friday evening whether the recalled cheese had been packaged under any brands other than Sargento, Meijer and Amish Classics.
Amish Classics brand recall codes
The specific brand and flavor of cheese that tested positive for Listeria monocytogenes was distributed by MDS Foods, an Ohio-based company. MDS Foods cut and packaged cheese from Deutsch Kase Haus LLC in a manufacturing facility located in Tullahoma, TN, before distributing it under the Amish Classics brand.
"The manufacturer, Deutsch Kase Haus LLC, is instructing all wholesalers and retailers to discontinue selling their existing stock of Amish Classic Colby deli horns distributed by MDS Foods under the Amish Classic label with item number 55209 and sold as sliced deli cheese. They are also recalling lot numbers 110316V02, 110316V03 and 110316V04," according to the notice on the Tennessee agriculture department website.
"The company is also removing packaged Amish Classic Colby Cheese with item numbers 55241 and 55245 which were cut from the suspect 55209 product and wrapped at the MDS Foods manufacturing facility located in Tullahoma, Tenn.
Meijer brand recall codes
All Meijer branded "Colby Cheese" and "Colby Jack Cheese" sold Meijer in-store deli counters are included in the recall. Deli counters in the Meijer stores throughout Michigan, Ohio, Indiana, Illinois, Kentucky and Wisconsin sold the cheeses from Nov. 10, 2016, through Feb. 9.
The recalled Meijer branded cheese was sold in plastic deli packaging with printed labels that have the UPC numbers of 215927xxxxxx or 215938xxxxxx  — the last six digits will vary, and are determined by weight because the product is sold by weight at the deli counter.
"Customers should stop using the product and either dispose of it or return it to the customer service desk at any Meijer store for a full refund," according to the Meijer recall notice.
Sargento brand recall codes
Although only two Sargento Foods Inc. products came from the implicated batches of cheese from Deutsch Kase Haus LLC, Sargento is recalling seven products.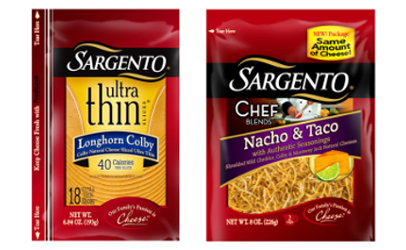 "The affected retail products are 'Sargento Ultra Thin Sliced Longhorn Colby,' 6.84 oz., UPC 4610000228, with 'Sell By' dates of '12APR17B' and '10MAY17B' and 'Sargento Chef Blends Shredded Nacho & Taco Cheese,' 8 oz., UPC 4610040041, with 'Sell By' dates of 'H14JUN17' and 'H12JUL17.' These products were packaged at our Plymouth, WI, facility," according to the Sargento recall notice.
"Out of an abundance of caution, Sargento is also recalling the following retail products because they were packaged on the same line" as the affected cheese:
Sargento Sliced Colby-Jack Cheese, 12 oz., UPC 4610000109 with "Sell By" date of "11JUN17B"
Sargento Sliced Pepper Jack Cheese, 12 oz., UPC 4610000108 with "Sell By" dates of  "12JUN17B", "09JUL17B" and "10JUL17B"
Sargento Chef Blends Shredded Taco Cheese 8 oz., UPC 4610040002 with "Sell By" dates of "H14JUN17", "F28JUN17" and "D28JUN17"
Sargento Off The Block Shredded Fine Cut Colby-Jack Cheese, 8 oz., UPC 4610040014 with "Sell By" date of "F05JUL17"
Sargento Off The Block Shredded Fine Cut Cheddar Jack Cheese, 8 oz., UPC 4610040076 with "Sell By" date of "F05JUL17"
(To sign up for a free subscription to Food Safety News, click here.)