There is an ongoing public health threat from frozen, shredded coconut linked to a Salmonella outbreak that has sickened people in the United States and Canada.
In the U.S., 25 people from nine states have been confirmed with infections from two outbreak strains of Salmonella. In Canada, one person has salmonellosis from a strain matching one of the outbreak strains identified by the U.S. Centers for Disease Control and Prevention. Six of the U.S. victims had symptoms so severe that they required hospitalization.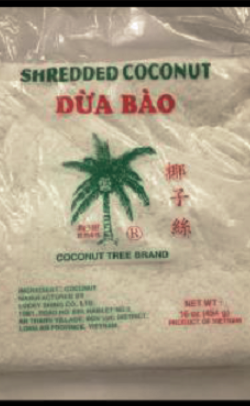 Evershing International Trading Co. recalled all Coconut Tree brand frozen shredded coconut packaged in 16-ounce plastic bags on Jan. 3, but the product's long shelf life prompted a warning from the CDC on Tuesday.
"The frozen shredded coconut linked to this outbreak was used as an ingredient in Asian-style dessert drinks served at restaurants. The product was also sold in grocery stores and markets in several states," according to the CDC in its initial outbreak notice.
"Frozen shredded coconut can last for several months if kept frozen and may still be in retail stores or in people's homes. CDC recommends that retailers not sell, restaurants not serve, and consumers not eat recalled Coconut Tree brand frozen shredded coconut."
The outbreak, which began in May 2017, could be ongoing. As of Jan. 12, the CDC had confirmed outbreak cases in nine states. The most recent U.S. victim's symptoms began on Nov. 4. The confirmed outbreak serotypes are Salmonella I 4,[5],12:b:- and Salmonella Newport.
However, additional product testing since the first of the year by Massachusetts public health officials has identified "several" other strains of Salmonella in packages of Coconut Tree brand frozen shredded coconut.
"Laboratory testing of other several types of Salmonella bacteria, including Salmonella Javiana, Salmonella Rissen, and Salmonella Thompson. These samples were from unopened packages of Coconut Tree Brand Frozen Shredded Coconut sold before Jan. 3," the CDC reported.
"CDC is reviewing the PulseNet database to determine if the other Salmonella isolates from the frozen shredded coconut are linked to any illnesses."
The Massachusetts Department of Public Health identified the outbreak in December 2017 while investigating a single case of Salmonella infection. Investigators collected food items from a restaurant where that ill person had consumed Asian-style dessert drinks. Tests showed Salmonella in the coconut used in the drink.
State and federal disease investigators have interviewed 16 of the outbreak patients. Of those, 10 reported eating or maybe eating coconut. Of those 10 people, 8 reported having an Asian-style dessert drink that contained frozen shredded coconut before becoming ill.
In addition to linking coconut used in the dessert drink to the salmonellosis patient, the department's epidemiologists also identified a strain of Salmonella that is new to the CDC's PulseNet database.
"The fact that we have detected this strain of Salmonella that caught the attention of the U.S. government is a testament to the work of our dedicated staff, whom I applaud," said Massachusetts Public Health Commissioner Monica Bharel in a news release.
Advice to consumers
The CDC recommends that retailers not sell, restaurants not serve, and consumers not eat the Coconut Tree brand recalled frozen shredded coconut.
"If you have recalled frozen shredded coconut in your home, you can return it to the place of purchase for a refund," according to the CDC's outbreak consumer advice page.
"If you aren't sure if the frozen coconut you bought is Coconut Tree brand frozen shredded coconut, you can ask the place of purchase. Restaurants and retailers can ask their supplier. When in doubt, don't eat, sell, or serve it. Throw it out."
Consumers who have had the recalled coconut in their homes should wash and sanitize countertops as well as drawers or shelves in refrigerators or freezers where frozen shredded coconut was stored.
Anyone who has eaten the recall coconut, or foods or beverages made with it, and developed symptoms of Salmonella infection should immediately seek medical attention and tell their doctors about the possible exposure to the pathogen.
Most people infected with Salmonella develop symptoms within 12 to 72 hours after being exposed to the bacteria. Symptoms can include fever, diarrhea, nausea, vomiting and abdominal pain.
In severe cases, the infection can be fatal. Infants, young children, the elderly, pregnant women, and those with a weakened immune system are at greatest risk.
(To sign up for a free subscription to Food Safety News, click here.)