More than 60 bakery products — including custom-made cakes — are under recall by grocery retailers Albertsons, Safeway and HEB because they were made with powdered milk from Valley Milk Products LLC, which is under recall because of Salmonella.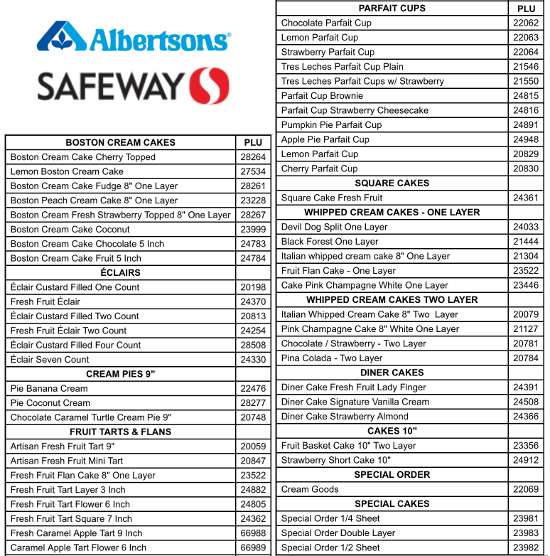 "Valley Milk Products has voluntarily recalled the milk product due to possible Salmonella contamination. Dawn Food Products used the recalled milk product in a vanilla cream custard mix, which was supplied to Albertsons and Safeway for use in bakery products," according to the two retailers' recall notice posted Thursday in the form of a news release on PRNewsWire.com.
Only baked products listed at right and sold at Albertsons and Safeway locations in Oregon and Washington and eight stores in Northern Idaho are implicated in the recall, which the retailers are coordinating with Dawn Food Products Inc. The Idaho stores are:
Albertsons, 1024 21st  St., Lewiston;
Albertsons, 161 W. Prairie, Hayden;
Albertsons, 220 Ironwood Drive, Coeur d'Alene;
Safeway, 1320 Blaine Street, Moscow;
Safeway, 702 N. 5th Ave., Sandpoint;
Safeway, 121 Neider Ave.,  Coeur d'Alene;
Safeway, 6519 Main Street, Bonners Ferry; and
Safeway, 1001 N. Fourth Street, Coeur d'Alene.
No illnesses or injuries have been reported in connection with bakery items purchased from Albertsons or Safeway stores or items made with product supplied by Dawn Food.
The recalled products were sold from the self-service and full-service areas of the individual store bakeries on or before Dec 15. All of the recalled products have a "Sell By Date" of Dec. 20 — "12-20-16" — or earlier.
"These products have been removed from sale. Customers who purchased these products are asked to discard then or return them for a refund," according to the news release. "Customers who have questions about the recall can contact Albertsons and Safeway at 877-723-3929 or Valley Milk Products LLC at 540-465-5513."
H-E-B recalls 9 bakery products
San Antonio-based H‑E‑B announced Friday that it, too, was working with Dawn Food Products to recall certain bakery products made with Valley Milk Products LLC's "High Heat Nonfat Dry Milk Powder."
The recall includes the nine bakery products, listed at right, and sold in H‑E‑B and Mi Tienda in‑store bakeries in Texas and Mexico. H-E-B has 340 stores across the region.
"The product is being removed because there is potential it could be contaminated with Salmonella," according to the recall notice on the H-E-B website. "There have been no reports of illness to date in connection with bakery items purchased from H‑E‑B stores…  All product has been removed from stores."
Anyone who has consumed any of the recalled products and developed symptoms of Salmonella infection should seek medical attention and tell their doctors about the possible exposure to the pathogen.
Food contaminated with Salmonella may not look or smell spoiled but can still make you sick. Young children, pregnant women, the elderly and people with weakened immune systems may contract serious and sometimes deadly infections.
Healthy people may experience short-term symptoms such as fever, headache, vomiting, nausea, abdominal cramps and diarrhea. Long-term complications may include severe arthritis.
Related recalls
A variety of other companies have already recalled processed foods — potato chips, macaroni and cheese, pancake/waffle mix and various baking mixes, etc. — including products sold under house brands for Wal-Mart, Publix Super Markets, Aldi and Dollar Tree retailers because of the powdered milk from Valley Milk Products LLC.
All of the products were made with the implicated powdered milk from Valley Milk Products in Strasburg, VA. At the request of the FDA, armed U.S. Marshals raided Valley Milk on Dec. 1 and seized 4 million pounds of powdered milk and powdered buttermilk.
On Dec. 9 Valley Milk Products recalled 3.1 million pounds of powdered milk products produced and sold in the period from Dec. 5, 2015, through July 10, 2016. While the FDA has access to company records showing who bought the recalled powdered milk, and when, it cannot publish those details because of a federal law protecting "confidential corporate information."
In a document filed in U.S. District Court for the Western District of Virginia the FDA reported environmental swabs collected at the production facility returned positive results for Salmonella. Inspectors also found internal records at Valley Milk that showed the company itself had found Salmonella in the facility and in finished products.
For additional details on other recalls related to the Valley Milk Products problems with Salmonella, please see:
(To sign up for a free subscription to Food Safety News, click here.)