A Salmonella outbreak traced to kratom products continues to sicken people across the United States, with the CDC reporting a 50 percent increase in the case count in the past three weeks.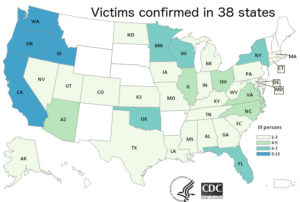 The 132 people now confirmed with the outbreak strains of Salmonella are spread across 38 states from coast to coast. No deaths have been confirmed, but 40 percent of the victims have required hospitalization, according to the Centers for Disease Control and Prevention. Three additional states reported ill people, with Connecticut, Iowa and Idaho now reporting confirmed victims.
Of the victims interviewed so far by epidemiologists investigation the outbreak, 73 percent said they consumed kratom in pills, powder, or tea before they became infected. Most people report consuming the powder form of kratom. People who reported consuming kratom said they bought it from retail locations in several states and from various online retailers.
Earlier this week the Food and Drug Administration used its mandatory recall power for the first time ever to enforce a recall of kratom products from Triangle Pharmanaturals LLC that had tested positive for Salmonella. Both the FDA and CDC continue to urge consumers to avoid all kratom products.
"Despite the information collected to date about where ill people purchased kratom, a single common brand or supplier of kratom has not been linked to the outbreak. CDC continues to recommend that people not consume kratom in any form because it could be contaminated with Salmonella and could make people sick," according to the agency's outbreak update this week.
Several companies have recalled kratom products because samples were found to be contaminated with Salmonella. A list of recalled kratom products is available on the FDA's website.
Kratom is also known as Thang, Kakuam, Thom, Ketom, and Biak. The plant is consumed in a variety of forms for its stimulant effects and as an opioid substitute, according to the CDC. However, the FDA has not approved kratom for any use in the United States.
Public health officials expect more outbreak victims to be identified, partly because of the long shelf life of kratom products and partly because illnesses that occurred after March 14, 2018, might not yet be reported. It takes an average of two tot four weeks from the time a person becomes ill with a Salmonella infection to the point where a confirmed illnesses is added to the outbreak tally. 
(To sign up for a free subscription to Food Safety News, click here.)